After taking a year off from announcing its latest smartphone at Mobile World Congress in Barcelona, Samsung has returned this year to show off the new Galaxy S9. While the phone looks mostly the same, its interior has been upgraded with all the latest specs to bring users new camera modes, updated Bixby features, and a fingerprint scanner that's placed… well, where it should have been in the first place. There's also a new AR Emoji feature that's supposed to take on Apple's Animoji by creating a custom, movable emoji based on your face.
A bold new camera, a state-of-the-art processor with an Android Oreo operating system and a fix to the Galaxy line's biggest design misstep — all in a body that looks strikingly similar to last year's model.
That, in a nutshell, is the Samsung Galaxy S9 (5.8-inch screen) and its larger step-up model, the Galaxy S9 Plus (6.2-inch screen).
You can preorder them March 2 at prices starting from $720 in the US for the standard S9 and $870 for the S9 Plus, depending on your carrier.
The phones are unquestionably beautiful, but what do we get with these slightly curved, all-screen specimens?
On the surface, it looks as if Samsung has only incrementally refreshed last year's Galaxy S8 ($597.42 at Amazon.com) and S8 Plus. But the 2018 models sport a serious camera upgrade that includes two lenses for the S9 Plus and a variable aperture for both phones that's designed to capture much better low-light shots.

The second improvement is more of a fix. Samsung moved the fingerprint reader from the side of the rear camera to the center of the phone's back, fixing what was without a doubt the Galaxy S8's most maddening design flaw. Last year's model made you stretch your finger awkwardly to hit the fingerprint target. No more.
I also approve of the S9's headphone jack, a feature practically extinct on other high-end phones. And it's added enhanced stereo surround sound, enabled by the microphone doubling as a second speaker. The Qualcomm Snapdragon 845 chipset inside promises at least 25 percent faster processing speeds than 2017 Android phones, as well as longer battery life. (Note, as per usual, that depending on your local region, you could have a Samsung Exynos 9810 processor instead.)
I loved the wild card bursts of color in coral blue and lilac purple on the phone's body, which jolt the Galaxy line from its monochromatic stupor. (Yes, you can still get the S9s in sedate black or gray.) And the two phones keep tried-and-true high-end phone features such as waterproofing (rated IP68), wireless charging and support for external microSD storage.
So, yeah: All the good stuff you'd expect is here, which is why I walked away from my Galaxy S9 hands-on time feeling great about these two phones. That said, I felt that Samsung fell flat when it came to countering the two big features of its archrival, the iPhone X ($1,099.99 at Best Buy). The Galaxy S9's Intelligent Scan unlock option doesn't measure up to Apple's Face ID, and Samsung's AR Emoji feature lacks the charm and verve of iPhone's animojis — they came off as eerie and unfinished. More on that below.

This rivalry with iPhone features is important because Samsung's marquee handsets stand in direct competition to the iPhone X, 8 and 8 Plus. In a landscape where premium phones are more similar than they are different, Samsung has struggled to capture the same cultural zeitgeist as the iPhone, or introduce headline-grabbing innovations like Apple's Face ID and gestural navigation. That nifty in-screen fingerprint reader would've been just the ticket, but it's MIA here.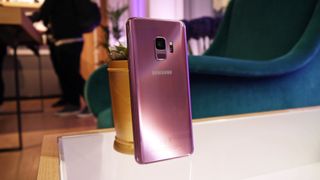 Will the Galaxy S9 and S9 Plus stand up to the iPhone X, Google Pixel 2 ($639.99 at Amazon Marketplace) and others? Are they worth an upgrade from the Galaxy S8 and older phones? Keep reading for price, preorder and sale dates, and all the details.
Galaxy S9 and S9 Plus price and sale date
Preorders begin March 2 and the phones go on sale March 16, for more than last year's S8 and S8 Plus — that's the dual-aperture camera tech talking. Carriers and retailers will announce local prices.
For example, we know that the S9 goes for between $720 and $800 in the US, with the S9 Plus ringing in for between $840 and $930.
In the UK, you're looking at £739 for the S9 and £869 for the S9 Plus from Samsung's website. In Australia the S9 starts at AU$1,199, with the S9 Plus starting at AU$1,349.
Galaxy S9 and S9 Plus supercharge cameras to take on iPhone X
Samsung's new super phones get variable aperture cameras and fix their fingerprint reader flaw for 2018. But they keep a familiar look and feel